On Oct. 30, the Haifa Laboratory for Religious Studies and the Ahmadiyya Muslim Community in Haifa, Israel, held a rare multi-faith solidarity gathering at the community's mosque amid the country's war in Gaza. More than 600 members of Haifa's Muslim and Jewish communities, as well as Christian and Buddhist representatives, overflowed the mosque hall, calling for a ceasefire in Gaza and an end to civilian killings. Since Oct. 7, more than 1,400 supporters have attended solidarity events hosted at the mosque.
"This is the only way — the only way — to create a different reality here," Alon-Lee Green, national co-director of the Arab and Jewish peace organization Standing Together, said about Jewish and Arab dialogue. "It's the only way to create a reality where we're not going from one war to the other, from one violent escalation to another violent escalation."
Below is a lightly edited transcript of the speech given by Muhammad Sharif Odeh, head of the Ahmadiyya Muslim Community in the Holy Land, at the event. Originally delivered in Hebrew, these remarks have been translated for publication. Watch a short video of the event here.
---
In the name of Allah, the Gracious, the Merciful.
It's quite interesting that there haven't been two nations that lived together in harmony and coexistence in the history of the world aside from the Arabs and the Jewish people. I am not saying this as Muhammad Sharif, an Arab or a Palestinian.
I am saying this based on this quote by Vanderbilt University professor David Wasserstein, who says: "Islam saved Jewry. This is an unpopular, discomforting claim in the modern world. But it is a historical truth."
This professor has a lot of knowledge and has taught hundreds of historians. He currently lives in the U.S. Other topics mentioned in this article: Islam gave Jewish people security and the right to exist; where else did Jewish people get equal social and economic rights?; the attitude of Muslims towards Jewish people that lived under their rule; the revival of the Hebrew language in the Islamic world; how and when the Jewish people lived in harmony with their neighbors; and the thriving of Jewish culture side by side with Islamic culture.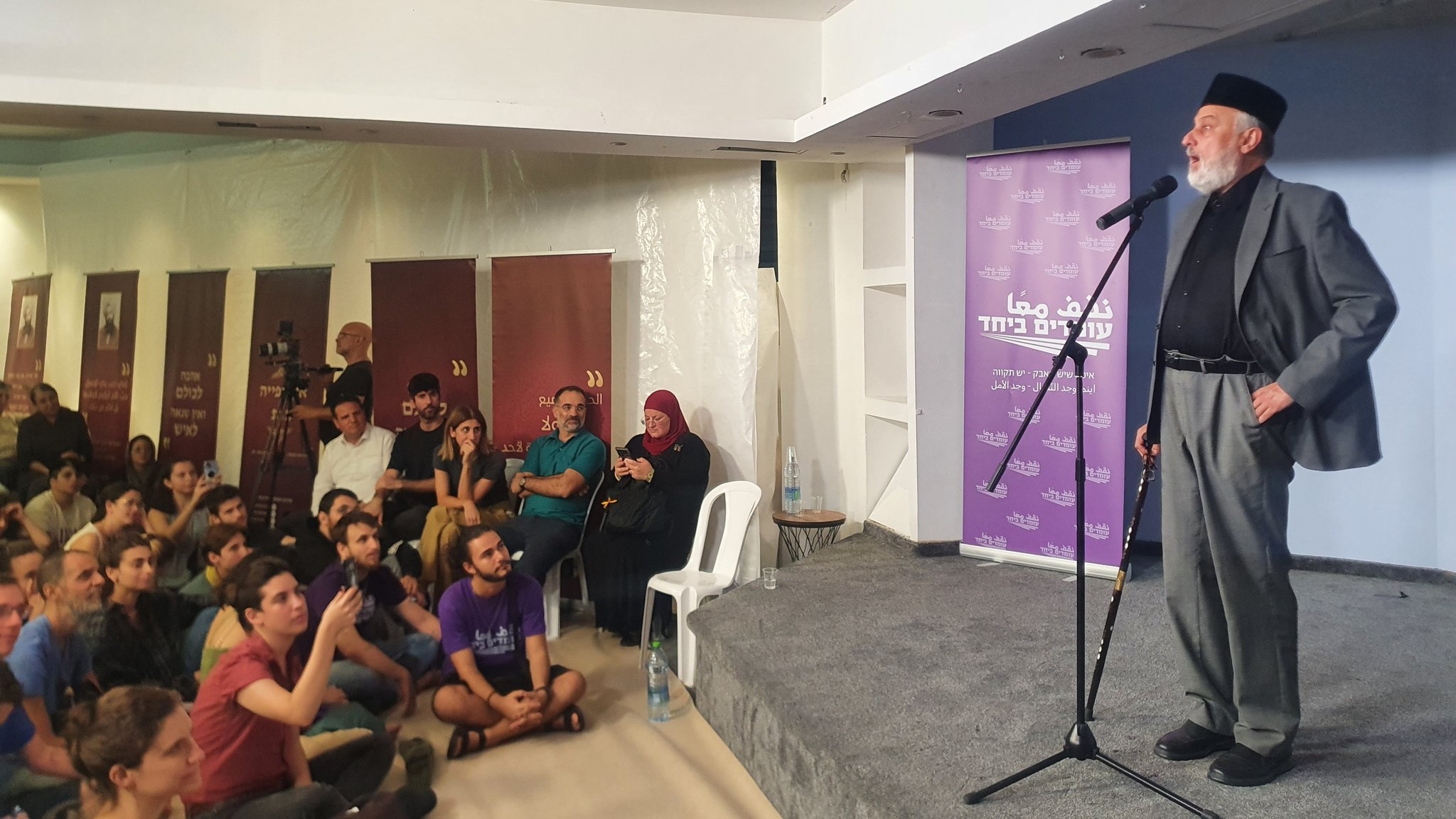 Muhammad Sharif Odeh, head of the Ahmadiyya Muslim Community in the Holy Lands, speaks to a packed crowd of Muslims, Jews, Christians and Buddhists.
Courtesy of Standing Together
So we have a beautiful picture. Why aren't we, as Jews and Arabs, telling this story? And why, if we were able to live like this for 1,400 years, why can't we live like this now?
Two things: The ideology. And I say this in all my lectures — we can't fight ideology with force. We fight ideology with an alternative ideology. 
I am asked about the 7th of October, this horrible day that doesn't only hurt me as a Muslim and Arab but also as a citizen of the state of Israel. I am asked, do you condemn Hamas? My dear! I have been condemning Hamas since 2009! And I created TV shows, we wrote and published articles. 
We can't fight ideology with force. We fight ideology with an alternative ideology. 
Our community was established to fight this radicalization of those political movements in Islam. God did not send prophets to establish countries. God didn't send prophets to be politicians. A country is for all of its citizens. On the first day that he wrote the first constitution in Medina — it was between the Muslims and the Jewish people, you can go back to Google and confirm for yourselves — the Holy Prophet, peace be upon him, told all of the citizens of Medina: "We are all equal." He told his followers: "Whoever hurts them (the Jews), hurts me, and I will be their enemy on the day of judgment."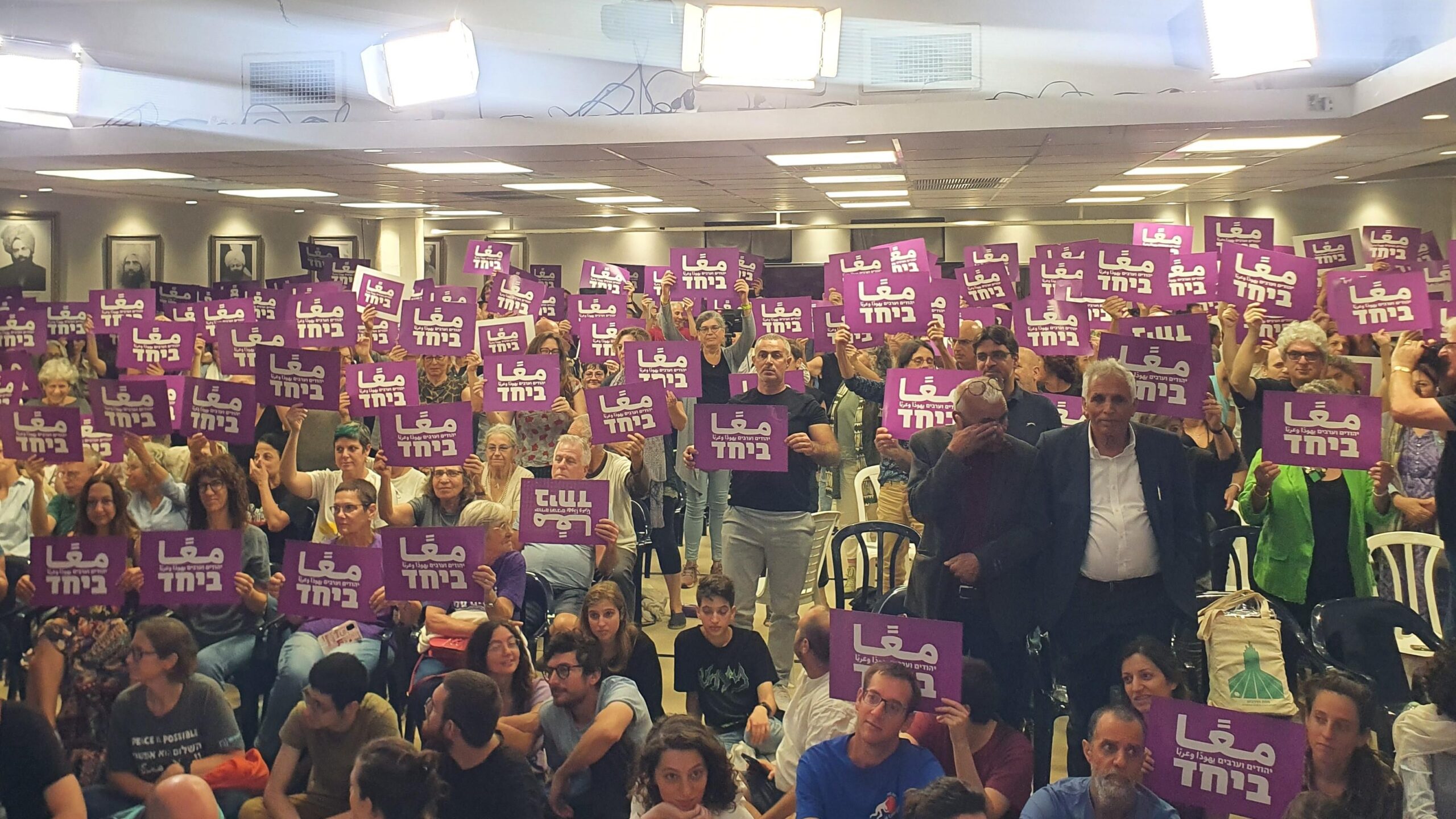 Audience members hold up signs that read "Together" at the interfaith solidarity event in Haifa.
Courtesy of AMJ Holy Lands
That's why Jews lived in Algeria, Morocco, Tunisia, Egypt, Yemen and here, too. That's why we need to give a correct definition to the term "jihad." In the Holy Quran, the word "jihad" was never mentioned in the context of war, not in one Quranic verse. And I'm not sugar-coating things because I live on Mount Carmel in Haifa. Every Ahmadi Muslim in the world believes the same thing.
Today I spoke with the head of our community in the West Bank, who used to identify with the ideology of Hamas. He is against them now. We also have members of our community living in Gaza, and I am worried for their safety. We need to worry for all human beings, and love all human beings like the love a mother has for her children, if not more. If we don't, something is wrong in our humanity.
I was never asked in which house I want to be born. I had no choice, and I assume you didn't have this choice either. The Holy Prophet, peace be upon him, taught us this: "All creations are the children of God, and the most beloved by Allah is whoever benefits all human beings." He didn't say Arabs or Muslims. That's why we need to make an effort to bring happiness toward the other. 
Without this, we will become emotionally numb — and this is the most dangerous thing facing us in the future. That's why we need to make an effort to bring a change. Thank you, and may God bless you.
Disclosure: Analyst News is affiliated with the international Ahmadiyya Muslim Community. To learn more about our ethics and standards as an editorially independent journalism organization, see our about page.